About
Castor Tools
Castor Tools LTD is an importing and marketing company of professional hand tools, power tools, crimping tools & hydraulic tools to the industrial sector
Castor tools was born and raised from the company A.R. ESCO, A leading company in the electrical components industry sector
The close relationship between the two companies provides the perfect package of high professionalism in the sector of electricity supply on the one hand and on the other quality tools with full match to customer needs
Advice and Guidance
Castor Tools has a professional team that provides advice and guidance for the benefit of buying and selecting the most appropriate tools for the client
The company has a delivery service throughout the country
We will be happy to assist you at any time
Thinking Responsibility
Castor Tools is certified ISO9001 standard and provides full product warranty
The company's products meet the standards and uncompromising quality from around the world
Castor Tools As a workshop for repairs and service for all tools provided
Office and logistics center are located in the north industrial area of yavne city
Product
The company's broad product range provides a perfect solution for the professionals.
Our products include hydraulic tools, hand tools, screwdrivers, testers, pressed, cut and others imported items from a variety of countries including Europe, Far East and more.
Today Castor Tools is the exclusive importer and marketer in the country of the companies JOKARY & SORA Germany and CEMBRE Italy. more details ahead
Castor tools work is based on constant innovation in the field while constantly reviewing the quality of tools and user comfort.
Represented Companies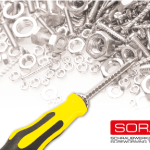 SORA  is one of the most experienced and reputable manufacturers of premium screwdrivers. For over 50 years now – and they are already into their 3rd generation – safe, high quality and ergonomic screwing tools are produced in this family firm at its own production centre. Following this long tradition, SORA have developed high quality tools for professional and DIY users through continuously developed techniques, processes and designs, based on innovative ideas.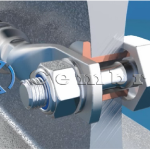 Cembre is today the leading Italian manufacturer and one of the largest European manufacturers of electrical compression connectors and related installation tooling.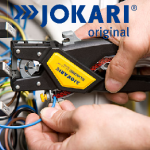 Jokari-Krampe GmbH (Limited) is market leader in the stripping and dismantling technology for all types of wires, cables, and conductors. Jokari produce professional tools for mostly all application areas in which wires must be processed easiyl, quickly, and safely. Jokari cable knives, cable and wire strippers are, with a few exceptions, TÜV- and GS-certified – we aim at a safe handling of all the company products. As a renowned specialist with more than 45 years of experience we continually develop innovative solutions for all demands and broaden our product range to adapt it to the changing market conditions.